Dental Implants – Des Plaines, IL
Comprehensive Tooth Replacements
Why do so many dentists recommend dental implants as a solution for tooth loss? The simple answer is that they come the closest to resembling natural teeth. They are the only tooth replacement option that can simulate the roots as well as the crowns of lost teeth, so your new smile will always be held firmly in place. Have you been thinking of giving your smile an upgrade with dental implants? Give Brite Smiles a call today to schedule a consultation with Dr. Sani to learn more about tooth replacement with dental implants in Des Plaines, IL.
Why Choose Brite Smiles for Dental Implants?
In-House Dental Implant Placement
Highly Trained Periodontist
Modern Dental Technology
What are Dental Implants?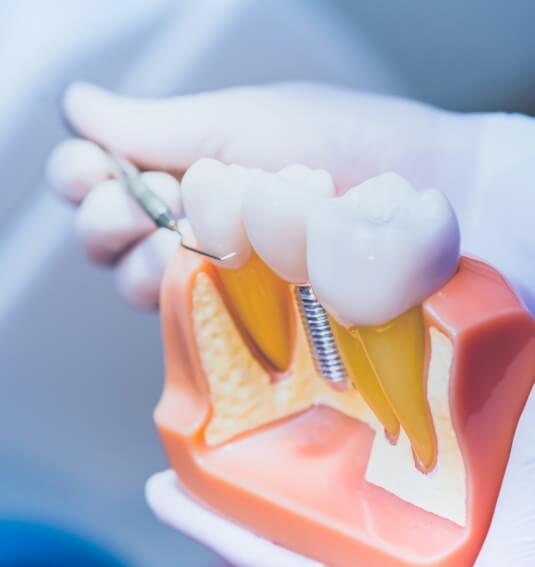 Dental implants are installed via surgical procedures that allow for a permanent prosthetic to last a lifetime. You can think of an implant much like a fake root that is attached to your jawbone, below your gums. Generally, a crown will be mounted on top of your implant to give you that picture-perfect grin you desire. Dental implants can be used to replace missing teeth and restore your entire smile. Many people have dental implants, and both patients and dentists alike choose implants as a positive option when it comes to replacing teeth.
The 4-Step Dental Implant Process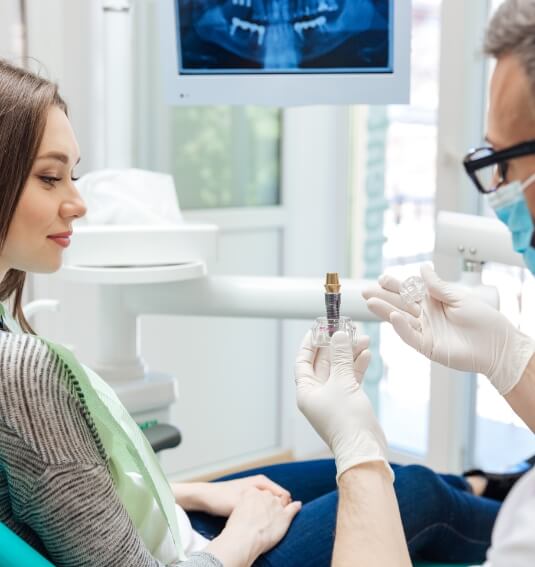 Consultation: Step one is to schedule an appointment where Dr. Sani will examine your mouth and determine whether or not dental implants are the right choice for you. A treatment plan will be created based on your needs.
Surgery: On the day of the surgery, we'll open your gums to access the jawbone and place the dental implants in predetermined areas.
Osseointegration/Abutment: The implant posts will need about 3 to 6 months to join with your jawbone; then we'll attach small metal pieces called abutments to them.
Final Restoration: A crown, bridge, or denture will be designed based on an impression of your mouth. Once it's ready, we'll use the abutment to anchor it to the implant posts.
Benefits of Dental Implants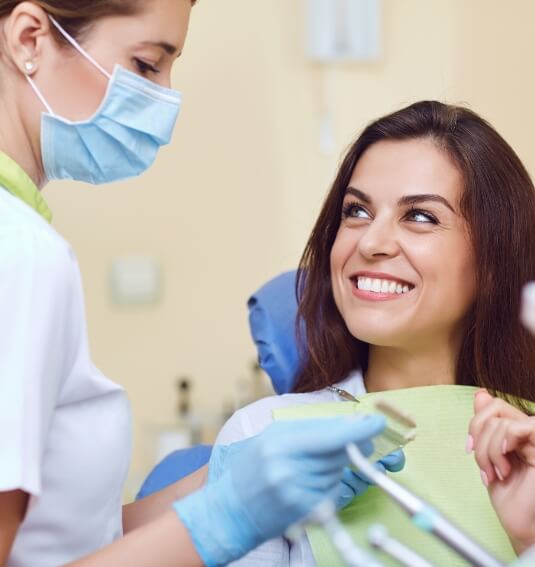 Dental implants can offer many benefits that you simply wouldn't get with traditional tooth replacements. For example:
The implant posts will stimulate your jawbone to prevent tooth loss.
You'll be able to eat all of your favorite foods thanks to the chewing power that implants provide.
If you were previously wearing dentures, you will no longer have to worry about your teeth slipping out of place.
Fully restored dental implants look and feel extremely natural.
Dental implant posts can last a lifetime if they get the right maintenance.
Who Dental Implants Can Help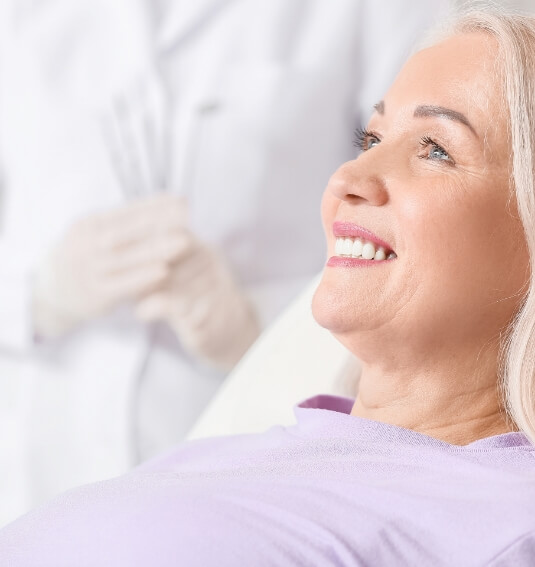 A dental implant can be used to replace teeth in all kinds of scenarios. As such, no matter how many teeth you're missing, you are likely still a candidate for dental implants as long as you:
Have a healthy mouth free of gum disease.
Have enough tissue in your jawbone to support the implant posts.
Are willing to undergo any preliminary procedures that might be needed to meet the first two criteria.
Below are some of the implant procedures that might be suggested depending on the extent of your tooth loss.
Missing Single Tooth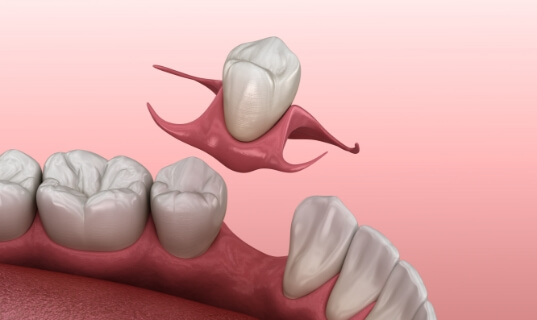 Replacing just one tooth with dental implants is relatively easy. All we need is a single implant post and a crown. Once the post has fused with the jaw, we can attach the crown to it in much the same way we might restore a natural tooth. This will leave you with a dazzling, complete smile.
Missing Multiple Teeth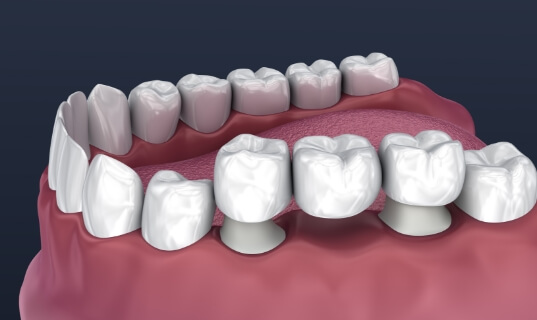 We can use two dental implants and a bridge to replace multiple teeth in a row. A bridge that uses implants for support does not require us to make any changes to your natural enamel, so your remaining teeth will remain undisturbed after the dental bridge has been placed in your mouth.
Missing All of Your Teeth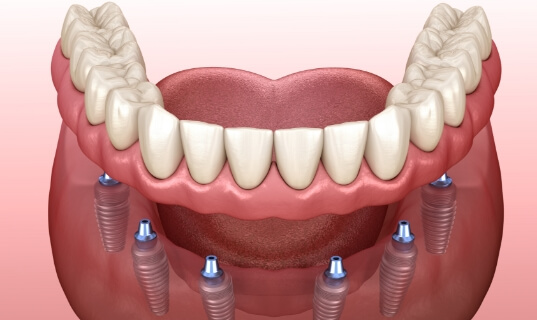 How many implants does it take to replace an entire row of teeth? Believe it or not, the answer is typically just four to six implant posts. That's enough to hold a denture in place so that you can eat, speak, and smile comfortably. Implant dentures can be removable or fixed depending on what you need.
Understanding the Cost of Dental Implants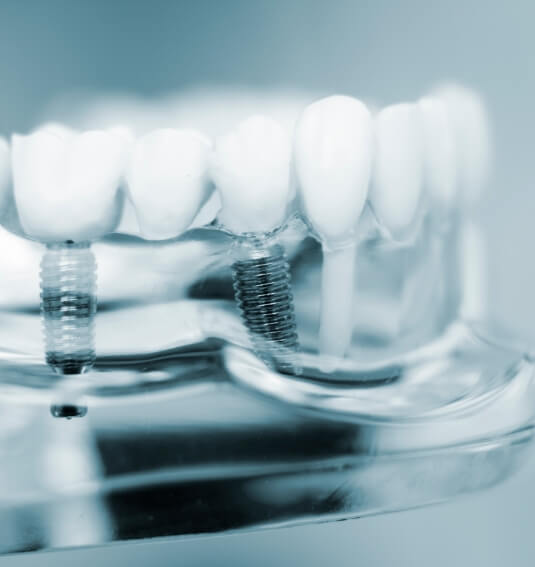 Of course, dental implants do carry a higher cost than other tooth replacement solutions, although exactly how much you end up paying for them depends on a variety of factors (which will be discussed at your initial consultation). It's worth remembering that dental implants last much longer than other restorations, so you don't have to pay to replace them. They also offer many health benefits, which could help you avoid potentially costly problems in the future.
Dental Implant FAQs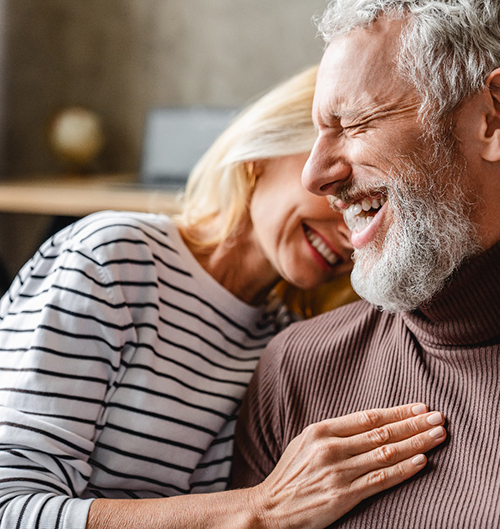 If you're looking for a more comprehensive solution for replacing missing pearly whites, then dental implants may be the ideal option for you. Not only do they offer superior stability compared to other traditional restorations, but they're also designed to last several decades to a lifetime! However, you may want to know as much as possible about the treatment before completely committing to it. Our team at Brite Smiles is happy to share and answer some of the most common questions we get about dental implants in Des Plaines. Keep reading to learn more or reach out to our office today to schedule your initial consultation.
Does Getting Dental Implants Hurt?
Firstly, our team will ensure that your mouth is completely numbed with a local anesthetic before beginning your procedure. Furthermore, your jawbone doesn't have many nerve endings, so you typically won't experience much discomfort during your appointment. While the surgery itself doesn't hurt, your mouth might feel sensitive or sore for several days following your treatment. This can easily be managed by taking prescribed or over-the-counter pain relievers as instructed. You can also place an ice pack on the outside of your mouth to help reduce discomfort and swelling. If your condition worsens or doesn't improve after two or three days, notify us right away for help.
How Long Do Dental Implants Last?
The longevity of dental implants usually depends on the patient's oral/overall health and lifestyle habits. That said, with proper care, these titanium posts can last as far as several decades to the rest of your life. To make the most of your new pearly whites, you'll need to implement strict oral hygiene, including brushing, flossing, and rinsing with mouthwash every day. Visiting our team for dental checkups and cleanings every six months can also help you maintain a healthier smile in the long run. Refrain from chewing on food that's too hard or sticky to avoid damaging your teeth over time.
Can I Get Dental Implants If I'm Diabetic?
As long as you keep your diabetes under control, you can expect a higher chance of dental implant success that's comparable to patients without diabetes. If your condition is left unchecked and you have chronically high blood sugar, it can end up interfering with or delaying your healing process, which is essential for allowing your implant to integrate with your jawbone. For this reason, you'll need to consult your endocrinologist or primary care doctor if you're interested in dental implants. They'll help get your blood sugar levels back to normal before starting your restorative treatment.
Will I Have to Take Off Work for Dental Implant Surgery?
Although you'll need plenty of time after your treatment to rest and recover, most people only require taking off a day or two to receive their dental implants. That said, if you have a physically demanding job, you might want to take off three or four days instead. Performing heavy or strenuous exercise can cause blood to divert from the surgical site, interfering with your healing process. Since every patient is different, you'll need to speak with your dentist to get a more specific recommendation for your unique case.